Here is a list of all gems and minerals that originate from Cambodia. Should you know some that are not present here please don't hesitate to contact us and let us know, we strive to always know more about gemology.
You'll find our Cambodian Gems for Sale here.
Tabong Totem or Tabong Pailin refers to Ruby; Pailin Ruby is pinkish but can be made pigeon blood red after a short charcoal heating. Before it was exhausted by the Khmer Rouge it was considered some of the best in the world.
Most Rubies sold today in Cambodia are actually Berylium treated or natural Ruby from Mozambique.
Tabong Kiu (blue gemstone) is Sapphire and can be found in Pailin and Preah Vihear.
Pailin has the best color of Sapphire in the world with most stones being Royal Blue, sometimes sky blue and milky but turns clear and Royal Blue after charcoal heating. Mines are now nearly exhausted and the real Pailin Sapphire come out stone by stone.
The Preah Vihear Sapphire is also a nice deep blue one but is usually very dark and doesn't shine much.
Tabong Ratanakiri is the only Blue Zircon in the world. It comes blue after charcoal heating but rough is is dark orange to brown. Other similar colors Zircon don't turn blue after heating, only the Ratanakiri one. There are other locations in Cambodia with nice Zircon, mainly Preah Vihear and Pailin. The Preah Vihear Zircon is usually heated to immaculate white.
Tabong Takeo in Khmer refers to Quartz, even if Quartz can be found all over the country, in Takeo are large quantities of smoky and yellow Quartz. There are other types of stones in Takeo but Tabong Takeo usually refers to Quartz.
Topaz (Topah in Khmer) is usually white and unclean in Cambodia, but can also be clean, or slightly yellowish, occasionally blueish.
Tektite: Cambodian people call it Black Onyx, this is a big misconception. Onyx is actually a commercial name for black Agate and while there is Chalcedony in Preah Vihear, it is not Onyx. Some long beads of stones look like Onyx and are sold all over the country but are actually imported from China and probably synthetic Agate.
Tabong Mondulkiri refers to Peridot or Olivine. They are nice quality Olivine but the quantities are too small to be noticed internationally.
Tabong Kampong Tom: Amethyst can be found in the Ratanakiri and Kampong Tom regions, Cambodian Amethyst is usually not very colorful or unclean, most Amethyst sold in Cambodia is from Africa or just synthetic.
Aquamarine is named due to it's watery color, also named Aquamarine in Khmer, it comes from the Takeo province. Cambodian Aquamarine has weak color and all nice color ones are imported or Synthetic.
Thong is Garnet (Almandine and Pyrope) are present in several locations, mainly Pailin and Ratanakiri. They are usually of mediocre quality because pretty dark and don't shine much.
Chrysoprase of decent to poor quality can be found in the Mondulkiri region, it is exploited but usually the market uses imports from Africa. .
Calcite, though not really considered as a gemstone, is present in the Pailin region but also in several other gems locations though it is not really noticed because not valuable enough to be exploited.
Opal is present in the Mondulkiri region but also not noticed nor exploited because it is low grade Opal without the fire present in opals of other locations such as Australia, Ethiopia or Indonesia.
Pyrite (of Fool's Gold) is present in several locations in Cambodia, mainly Pailin and Stung Treng, usually tiny cubes held together by quartz.
Don't hesitate to add us to your preferred social netowrks.
Our latest gemstones videos, you can skip forward from gem to gem to see them all:
Existing clients please find pictures of your gemstones orders from the Chanthaburi Market here.
Going to Pailin to buy gemstones?
We provide a scouting and local market expertise in Pailin that allows buyers to purchase gems in the best possible conditions to maximise your time, security and use of your budgeted purse.
CALL +855 777 83920 FROM OVERSEAS OR 0777 83920 WHEN IN CAMBODIA.
How does this help?
Good deals can be made when purchasing gems in Pailin but it is not always easy to get truthful information about the gems classification, origin and treatment. We can assist you to see through this murky market.
We will give you advise about market prices and help with translation, most sellers don't speak foreign languages.
Using Pailin Gemstones for scouting and expertise:
We have an extensive knowledge of the market and its sellers so we will help you to see through this fog and deliver our expertise, bringing you around and helping you with translations and gems assessment. Language can be an issue and we will act as translator.
We will present you with gems from suppliers, wholesalers and exporters that don't have a shop because they don't usually sell their batch in Pailin, or specialise in selling to the local stores. You will then be able to see gems that you wouldn't have found without us and to be the 1st in line to see the newest batch and choose the best gemstones before they leave town or are sold to shops.
We have the possibility to arrange field excursions to the ruby and sapphire mines but that has to be reconfirmed on a case by case basis due to weather and sometimes legal conditions since most mines are illegal, something that we will lecture you about.
Thanks to our established reputation we can arrange to borrow gemstones* from most stores to bring them to our office for a more thorough examination.
Now available in our office:
- x5 - x150 Trinocular Darkfield Microscope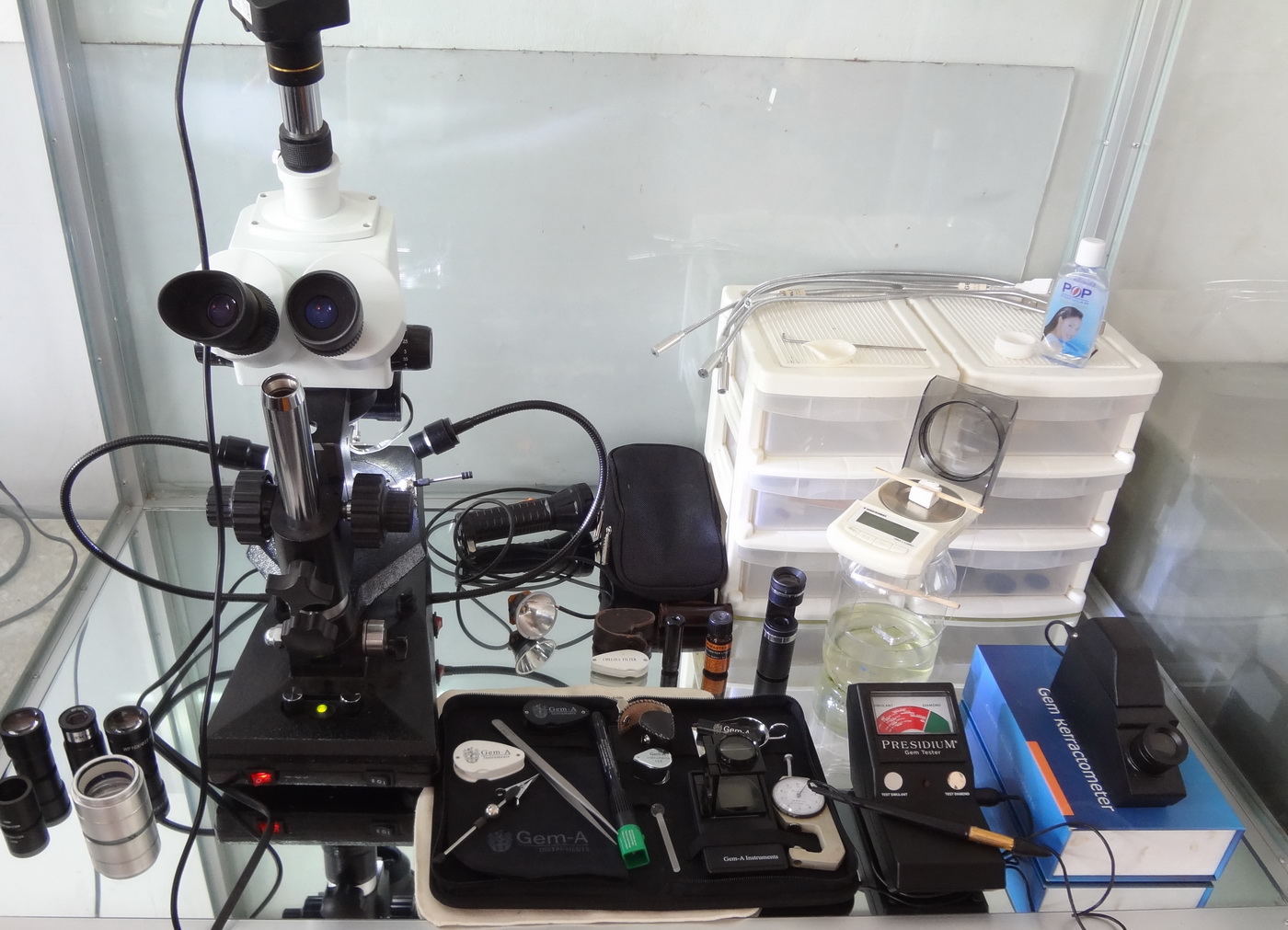 - Refractometer
- Dichroscope
- Dark Field Magnifier
- Conductivity Tester
- Chelsea Filter
- Spectroscope
- Polariscope
- Density Scale


You will also have the possibility to use our safe box to keep your stones and valuables during the day.
Our Rates:
For this service Pailin Gemstones charges 35$ for half a day (4 hours), 60$ per day, or 2% (from the buyer) + 3% (from the seller) of your total purchase, whichever is the bigger amount.
These rates exclude eventual costs of transport and food, but full packages including accommodation can be pre-arranged (on-line deposit will be required). Border or airport pick-up / send-off can be arranged as well.
We are well known by the sellers here for our continual integrity and have the established reputation of not hiding an agenda when genuinly trying to help all parties to conduct a constructive business relationship.
Credentials:
Pailin Gemstones is a trade name of Khmer-Dev INC, a registered company with the Cambodia Ministry of Commerce and our expatriate staff are legal workers, permanent residents and holders of work permits. We offer 100% traceability.
If you are interested in using our services please send us a mail via the contact form or call us at +855 (0) 777 83920. We can help arrange accommodation (hotels and guesthouses) if given advance notice, we will also advise you on guided visits to the mines, other attractions and things to do in Pailin.
* In the eventuality that you wish us to borrow gemstones for examination in our office you will be required to leave your passport in our safe.
Покупка драгоценных камней в Пайлине (Камбоджа)
Туры в Пайлин за драгоценными камнями.
Пайлин известен как одно из крупнейших месторождений сапфиров и рубинов Юго-Восточной Азии. Здесь буквально под ногами можно найти кристаллы сапфира разных цветов, рубины и другие драгоценные и полу-драгоценные камни.
Собираетесь в Пайлин за драгоценными камнями?
Мы поможем вам с анализом рынка, подберем драгоценные камни в соответствии с вашими запросами, что позволит осуществить сделку на наиболее выгодных условиях. Таким образом, мы сэкономим ваше время, деньги и сделаем ваше путешествие безопасным.
Звоните +855 777 83920 из заграницы, или 0777 83920, если вы уже в Камбодже.
Как это работает?
Пайлин, как месторождение, - отличное место для покупки драгоценных камней, однако, в силу менталитета местных жителей, не всегда легко получить от продавца правдивую информацию о рынке, классификации камней, происхождении и видах облагораживания. Мы поможем вам разобраться в деталях и получить полную картину.
Мы поможем Вам:
Избежать лишних помощников при заселении в отель

Мы подскажем вам, как избежать покупки синтетических камней, имитаций, камней, заполненных стеклом, и так далее. О некоторых из нюансов не знают даже продавцы.

Мы с удовольствием покажем вам ВСЕ торговые точки в городе. Наша работа – показать товар лицом, чтобы удовлетворить ваши требования.
Подбор и экспертиза драгоценных камней в Пайлине:
Опыт и знание рынка и его участников позволят нам сориентировать вас в многообразии товаров, провести оценку и помочь с переводом там, где языковой барьер может стать проблемой.
Мы познакомим вас с товаром от поставщиков, оптовиков и экспортеров, которые работают в закрытых офисах, и чей ассортимент обычно не попадает на местные прилавки. Вы увидите камни, которые вы не увидели бы без нашей помощи, что предоставит вам большие возможности для выбора, до того, как этот товар покинет город, или будет выставлен на прилавок.
Мы располагаем широкими возможностями по проведению полевых туров непосредственно на места добычи сапфиров и рубинов. Стоит заметить, что о таких турах следует договариваться заранее, так как они иногда могут быть недоступны в силу погодных явлений и в силу того, что большинство месторождений разрабатывается нелегально. Мы с удовольствием ознакомим вас со всеми нюансами и деталями.
В силу нашей хорошей репутации на рынке, мы можем без залога забрать выбранные вами экземпляры в наш офис для более детального обследования. (В такой ситуации ваш паспорт должен оставаться в сейфе в нашем офисе.)
Наша лаборатория оснащена:
5-150 кратным тринокулярным микроскопом с темным полем

Рефрактометром

Дихроскопом

Лупой темного поля

Набором для пробы твердости

Фильтром Челси
Так же, мы предоставим в ваше распоряжение сейф для хранения вашего имущества в течении дня.
Наши расценки:
Стоимость наших услуг составляет 20$ за половину рабочего дня (4 часа), 40$ за полный рабочий день, либо (на выбор клиента) 2% со стороны покупателя + 3% со стороны продавца на общую сумму вашей закупки. При крупных объемах закупок, комиссия будет выплачена в присутствии всех сторон сделки.
Мы давно и тесно сотрудничаем с продавцами, создав о себе репутацию компании, которая честно старается наладить взаимопонимание между сторонами, не отдавая предпочтения одной из них. Иными словами, мы за конструктивные деловые отношения.
"PailinGemstones" является торговой маркой компании Khmer-devINC, зарегистрированной в Министерстве торговли Королевства Камбоджа. Наши сотрудники являются официально оформленными на основе ВНЖ или Разрешения на трудоустройство. Наш бизнес на 100% прозрачен для всех сторон.
Если вы заинтересовались в наших услугах, пожалуйста, свяжитесь с нами через Контактную Форму, либо по телефону +855(0) 777 83290. По договоренности, мы поможем вам с размещением в одной из гостиниц в Пайлине на выбранный период.